RuneScape User Name
Durandel3
F2P Combat Level
115
P2P Combat level
115
IRC User Name On Swift Kit/Swift Switch (must be registered)
Don't have
In-Game Picture Of Your Stats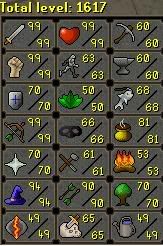 Picture Of your PVP/P2P Multi Pking Gear/Invetory
What Clans/Teams Have You Previously Been In And For How Long?
TA, but they failed on me, o well
Reason For Leaving Your Previous Clans/Teams? (Must Say If You Got Kicked)
I just left, Abyss Arr0w coudn't lead
Any Previous Accounts You Have Played On
Nope
Reason For Joining SuperNatural
I want to PK! =[]
Where Did You Hear About SuperNatural?
Soz Owned's Youtube channel
Why Do You Feel That You Deserve To Be Accepted As A Member Of SuperNatural?
MY 99 Range will come in handy, and there is a possibility that i will bring d claws.
Tell Us More About Your Pking Expreince/Any Special Skills
Well I D Claw pjed and got DFs, but i didn't screenshot it =/
Referrals
I don't know anyone in the clan personally.
Do You Have Any Problems With Any Members Of SuperNatural?
Nope
Tell Us Something About You (e.g. Name, Age, Hobbies)
My Name is Josh and I like to play Basketball often.
Time Zone
Central
Do You Agree To Not Only Be Active In-Game But Also On Forums And The IRC Channel #Soz? As Well As Understanding That SN Is An Active Pk'ing Clan And Failure To Uphold An Acceptable Level Of Activity Could Result In A Kick?
yes
Have You Read and Do You Agree To Follow The Rules of SuperNatural Posted Here Throughout The Full Time You Are A Member?

Yes
Anything Else You Wish To Say May Be Added Here:
I hope you guys accept me intot he clan.