RuneScape User Name
Icey_Dan1
F2P Combat Level
95
P2P Combat level
104
IRC User Name On Swift Kit/Swift Switch (must be registered)
Icey_Dan1
In-Game Picture Of Your Stats
(The stats not visible in this screen shot are : Hunter99, Construction99 and Summoning 70
Picture Of your PVP/P2P Multi Pking Gear/Invetory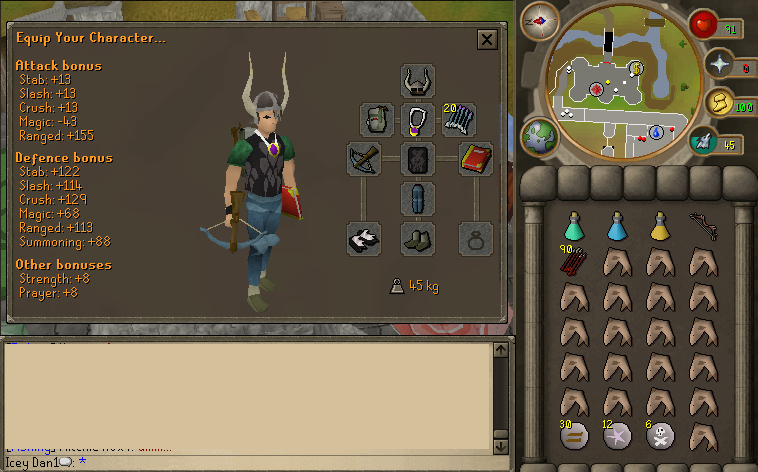 Picture of A Recent Pk You Have Gotten (Not Necessary)
Sorry i only video my kills
If you really want to see : http://www.youtube.com/watch?v=yYRuwX_uhFw
What Clans/Teams Have You Previously Been In And For How Long?
I was leader of the skillers union for 2 years
Then after i quit being a skiller, i decided to become a pker
I joined several pking clan chats, but after being backstabbed a few times, i wanted to join a clan
I was in a few pking clans, but left after all their events were in eastern timezone
I have finally found supernatural, a clan in GMT+0 timezone

Reason For Leaving Your Previous Clans/Teams? (Must Say If You Got Kicked)
Nope never been kicked.
I resigned from skillers union after i stopped skilling and trained combat stats for PKing.
I resigned from pking teams since their events were around 1AM for me (they were eastern timezone)
Any Previous Accounts You Have Played On
Nope, this is my only account

Reason For Joining SuperNatural
Looking for a PKing clan in GMT+0 timezone
Meet new friends, join a fun, friendly community
Where Did You Hear About SuperNatural?
The link was at the end of Soz Owned's pking video
Why Do You Feel That You Deserve To Be Accepted As A Member Of SuperNatural?
I like to work with a team
I'll admit i'm not the best pker but i can listen to instructions would fight with you to the death
Tell Us More About Your Pking Expreince/Any Special Skills
I have only been pking for a few months, but i have learned fast how to pk well with range
usually with dragon bolts or a dark bow
Referrals
Sorry i don't know anyone in the clan
Do You Have Any Problems With Any Members Of SuperNatural?
Not at all, i hope to get to know them better and maybe make a few friends
Tell Us Something About You (e.g. Name, Age, Hobbies)
I am 18 from Scotland
I attend college 3 days a week which gives me loads of spare time to play runescape
Time Zone
GMT+0 - scotland
Do You Agree To Not Only Be Active In-Game But Also On Forums And The IRC Channel #Soz? As Well As Understanding That SN Is An Active Pk'ing Clan And Failure To Uphold An Acceptable Level Of Activity Could Result In A Kick?
Of course
Have You Read and Do You Agree To Follow The Rules of SuperNatural Posted Here Throughout The Full Time You Are A Member?

I agree to follow all 5 rules at all times
Anything Else You Wish To Say May Be Added Here:
Hope you accept me

Thanks for reading