RuneScape User Name
Kaiman299
Registered IRC Nick(s)
[SN]kaiman299
F2P/P2P Combat Level
103 f2p, 110 p2p
In-Game Picture Of Your Stats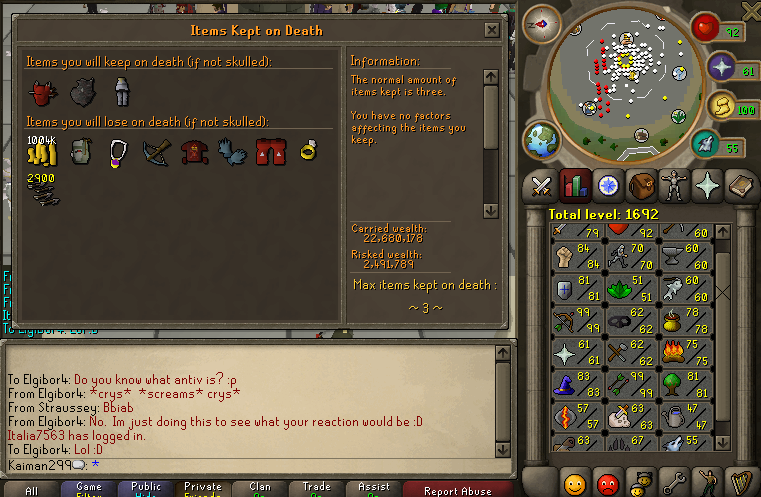 I'm 58 summoning by the way, It was drained from me being on the mountain road near trollheim.
Picture Of your Pking Gear/Inventory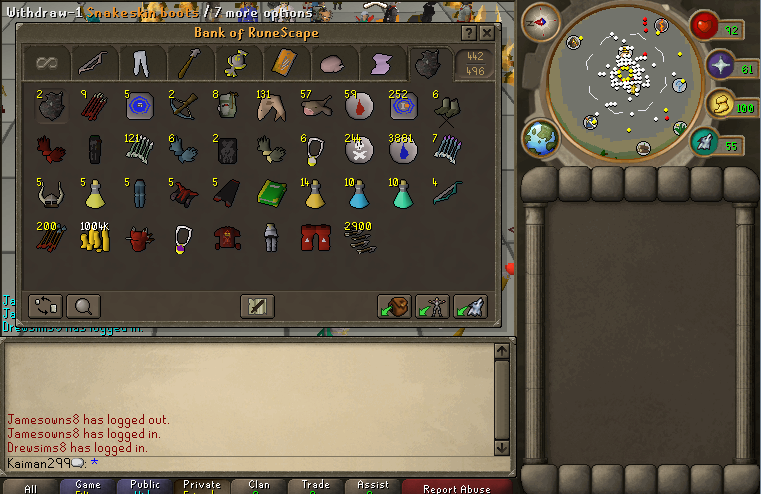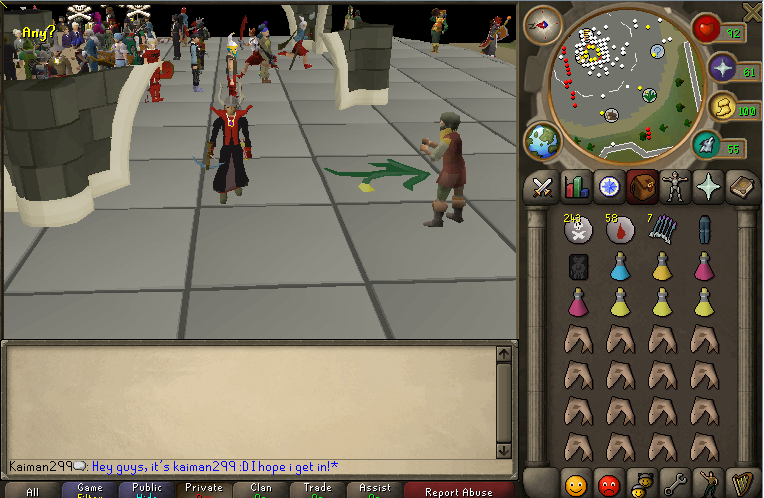 Name The Teams/Clans You Have Been In On Any Account And The Reason For Leaving Them/Getting Kicked
I was in a fail f2p clan a couple years ago called Kingdom of Legends. I hated it because the leader was a concieted jerk, and everyone in it was probably 11.
Name Any Other Accounts You Have Played On
D3f3nc3d3d3d (summoning tank) Pureravage (gmauler) Ancient5765 (range tank)
Reason For Joining SuperNatural
I've been looking for a good clan for a while now. I wasn't a fan of the whole "Mass Clan" thing. I wanted a structured clan that knew what they were doing. SuperNatural pretty much fit the bill

Where Did You Hear About SuperNatural?
I was fighting 99range lvl, and my friend that was watching me told me about him getting lured in the May 31's pk vid. I watched it, laughed a bit, and then decided to check out the website.
Why Do You Feel That You Deserve To Be Accepted As A Member Of SuperNatural?
I'm pretty respectful, I'll listen to what people tell me because the leaders probably know better than I do.
Referrals
No one knows me soo....
Do You Have Any Problems With Any Members Of SuperNatural?
I don't know anyone here. But no one has struck me as "abrasive". So no.
Tell Us Something About You (e.g. Name, Age, Hobbies)
My name's Christian, I live in Mormonville, Usa (Utah). I'm 15 years old. I've been playing guitar since I was 5, it's pretty much my passion. I listen to a bunch of metal and thrash, I pretty much hate mainstream music. Umm... I'm a semi-pro yo-yoer

That's about it.
Time Zone
Mountain Time.
Can You Vid Our PK Trips?
Yep. Camtasia and Sony Vegas 8.0. Not laggy.
Do You Have A Microphone For Ventrilo?
Not yet

Do You Agree To Not Only Be Active In-Game But Also On Forums And The IRC Channel #Soz? As Well As Understanding That SN Is An Active Pk'ing Clan And Failure To Uphold An Acceptable Level Of Activity Could Result In A Kick?
Absolutely. No clan can survive without rules and active members willing to obey these rules.
Have You Read and Do You Agree To Follow The Rules of SuperNatural Posted Here Throughout The Full Time You Are A Member?

I sure have. And I completely agree.
Anything Else You Wish To Say May Be Added Here
I'm pretty excited about joining this clan. It looks like everyone is friendly and supportive, and most people seem to follow the rules. And Soz_Owned's pk vids own. [/SuckingUp]
Thanks for reading!